18 Apr
Posted By
0 Comment(s)
2507 View(s)
Recruiting sponsors plays a huge role in the success of all charity events and is just as important as recruiting the golfers themselves. While some revenue is generated from registration, the majority of funds for charity events comes from outside businesses and organizations.
What are the Different Tournament Sponsorships?
In addition to the value that sponsors add to your event, they also provide marketing and promotional benefits. Most companies, especially larger businesses, have a budget to do this every year so the earlier you reach out, the more opportunities you'll have to get creative about who you reach out to.
The two most helpful sponsorships are the Title Sponsor and Presenting Sponsor.
Title Sponsor. The biggest sponsor of the event who pays enough money to have their name on he event. This sponsors name goes on all signage and banners and is features on all social media platforms. They also get numerous playing spots, recognition on tee prizes, holes, etc.
Presenting Sponsor. The names of the presenting sponsors appear on the brochures and advertisements, but is shown much smaller than the Title Sponsor.

Contest Sponsor. Donates the prizes for all the raffles and contest. Their name is listed on all publicity material and they are provided with some special thanks during the awards banquet as their prizes are shown off.

Meal Sponsor. Donates money or specific food iems to offset the cost of the food and beverage given to golfers, volunteers, sponsors and attendees throughout the day. This is also a great opportunity for local restaurants and breweries to get involved and have vendors around the course offering samples of their products.
Hole Sponsor. The Hole Sponsor is the least expensive sponsorship option and pays a certain amount to be the sponsor of a single hole on the golf course. Their company name appear next to the hole for players and fans to see.
Where do I Start Looking for Sponsors?
If your tournament benefits a charity, reaching out to the charity and using their network is a great way to seek out smaller sponsorships and donations from their already developed relationships and connections. Reaching out to those that support their cause and receiving any sort of donation is huge help.
Reaching out to your your own network of people and local businesses is a great place to look for larger sponsors. Startup companies are looking to get their name out to the public so sponsoring an event is a great opportunity for them to start becoming more recognized.
Local restaurants and breweries are great for meal sponsors if they are willing to donate lunch or set up the course with food and drink samples. if there are multiple food and beverage vendors thoughout the course, you can sell tickets at registration as an "All You Can Eat" feature.
Lawyers, car dealerships, spas, gyms, insurance offices, realtors, restaurants, breweries, and other local business are great opportunities for sponsorships, donations and even raffle items.
How Can I Get Sponsors to Say Yes?
Looking and especially reaching out to potential sponsors can be extremely stressful when you don't get the answers you hoped as quickly as planned. Be creative and target places that you personally enjoy because local businesses are more inclined to support their loyal customers.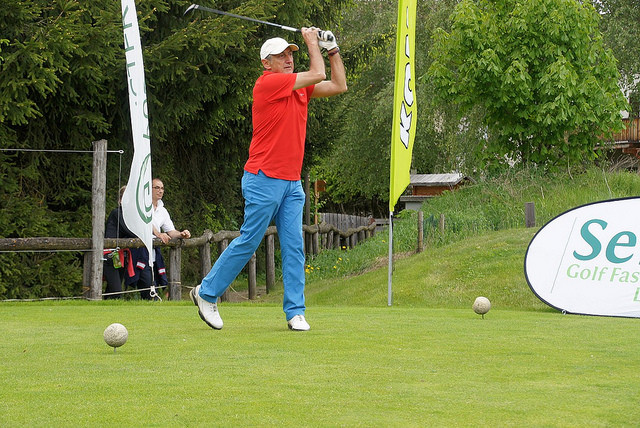 One key way to get a "yes" is to think of fun ways to reach out to potential sponsors. The first contact is always most important so you want tit to be a face-to-face personal approach rather than sending a generic email.
Always go prepared with knowing what you want to say and bring a flyer about your charity event to leave with the potential sponsor after you are finished talking. This will help you stand out from other organizations that are requesting sponsorships.
Remember that anything that adds value to your event is worth it, so the first business you reach out to might not be your biggest sponsor. Give yourself time to accomplish your sponsorship goals and make sure to always follow up with a thank you.
If you're looking for some inspiration on the best promotional items to use for your marketing campaigns, check out our websites and let me know how I can help:
Greco Promotions | Global Golf Events
If you find this article useful, please SHARE with your network. Thank you!